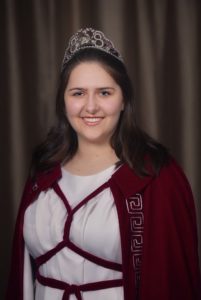 Wow! Wow! Wow! This last week has been a whirlwind. To tell you the truth, it hasn't totally set in what an adventure I'm about to start. My mind has yet to catch up with all this new information. When my name was called at Grand Session, it was an out of body experience. I couldn't believe that this was real. Words seemingly can't describe how I'm feeling, but I'll try my best. I AM SO INCREDIBLY EXCITED! I am so honoured to be able to represent the Grand Bethel of BC this year and bring my own personality
and spunk to the position. I have lots of ideas that I hope I can accomplish during this next year, so buckle up everyone!
I am beyond excited to see this beautiful jurisdiction in a whole new light. I cannot wait to take on this new challenge! To the Grand Bethel Girls, let's take this year by storm! I can't wait to see how we all grow together.
To Mrs Peatman and Mr Gilmore, I'm so excited to travel with you this year and get to know you both better. To MissBCJD Maia, I couldn't have picked a better partner to take on this incredible experience with. And finally, to the phenomenal girls and adults of our jurisdiction, I cannot wait to travel and get to know you all better over the next year!
Here's to the next year, let's see what lies at the end of our yellow brick roads!
Jobie love,
GBHQ Abbey Macey